TechNotes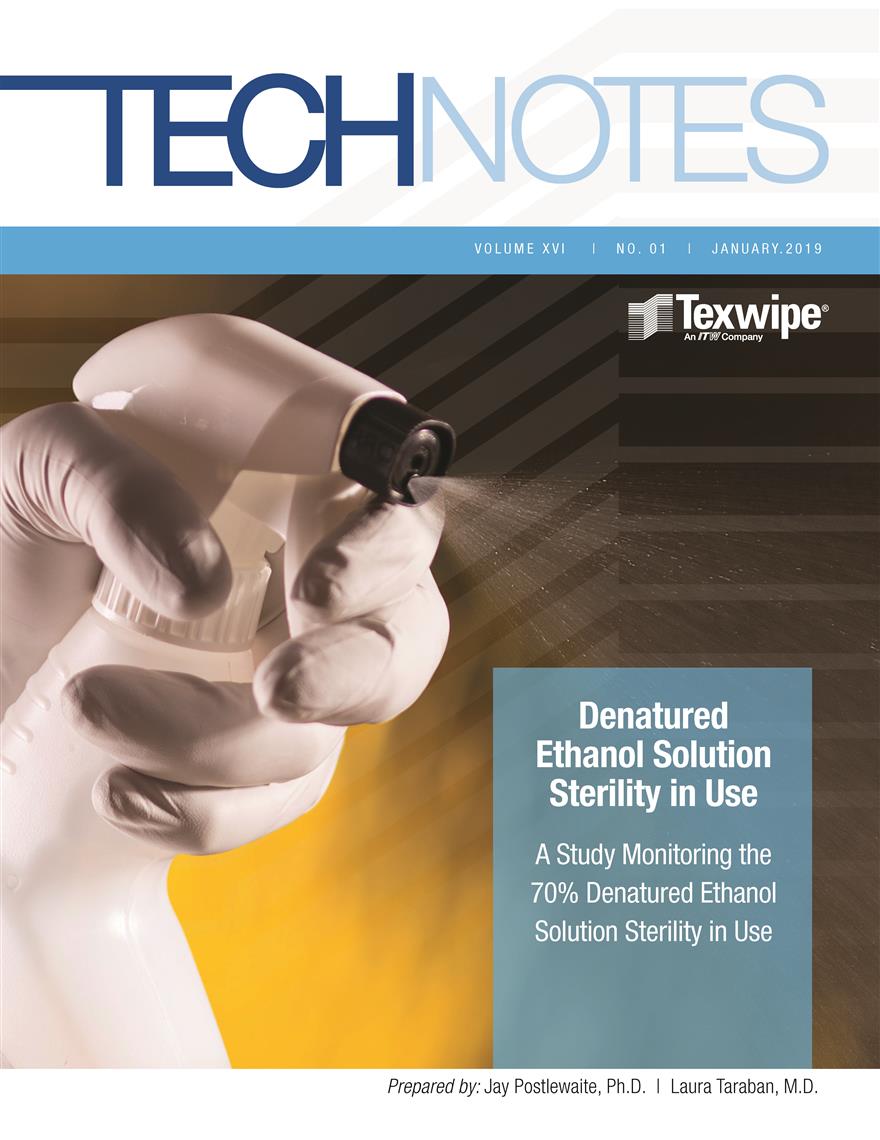 Texwipe has created technical notes, aka TechNotes to provide a better understanding of the testing, application, and selection of our cleanroom consumables.
Topics include wiper consistency, cleaning of isolators, sterility validation, cleanbuild protocols, particle testing, and cleanroom stationery. Additional information on specialized topics in contamination control can be found in the Published Papers section under Resources.
If you have comments or questions, or there are other topics that you would like to see developed as a TechNote, please contact us.
ALCOHOLS (Isopropyl Alcohol, Denatured Ethanol)
| TechNote Title | Description |
| --- | --- |
| | A study monitoring in-use 70% Isopropyl Alcohol Level using a specific gravity method test. |
| | A study monitoring 70% Isopropyl Alcohol Sterility In-use |
| | Integrity Test Results for Bags Used as a Component of Sterile 70% IPS, TexQ Disinfectant and TexP peroxide Solutions. |
| 70% Ethanol Percentage Level in a Denatured Alcohol Solution | A study monitoring the in-use 70% ethanol percentage in a denatured alcohol solution. Conclusion: Texwipe's 70% Denatured Ethanol solution may be used for at least 28 days without concern for the percent ethanol concentration changing. |
| | A study monitoring the sterility of Denatured Ethanol solution in use.  Conclusion: Texwipe 70% Denatured Ethanol solutions may be used for at least 30 days without concern for their sterility change. |
DISINFECTANTS
| TechNote Title | Description |
| --- | --- |
| The Effectiveness of the TexQ® Decontamination Protocol in Cleaning Surfaces Soiled with Hazardous Drugs | A Texwipe developed protocol which includes TexQ, a disinfectant and cleaner, and wipers pre-wetted with 70% USP-grade IPA solution for the decontamination of surfaces exposed to hazardous drugs. The efficacy of the protocol was assessed at Bureau Veritas North America (BVNA), an independent testing organization internationally recognized as a leader in testing, inspection, and certification. |
| | An observational study of using TexQ® Disinfectant Cleaning Protocol in Removing Hazardous Drug Contamination During Sterile Compounding. |
| | A step-by-step protocol for hazardous drug removal. This one-page sheet may be placed in the work area. |
| | Integrity Test Results for Bags Used as a Component of Sterile 70% IPA, TexQ Disinfectant and TexP peroxide solutions. |

WIPERS
| TechNote Title | Description |
| --- | --- |
| | Microdenier wipers are increasingly gaining acceptance for use in cleanroom environments because of their ability to perform well in critical cleaning applications. |
| | Wipers are used to control contamination in cleanroom environments in a variety of industries, from building the next-generation microchip to manufacturing the newest vaccine. Each of these settings may have different applications for a cleanroom wiper, but measuring the wiper quality should always be the same, i.e. consistent. |
STERILE PRODUCTS
| TechNote Title | Description |
| --- | --- |
| | Sterile Dry Wipers, Package Integrity Testing for Shelf Life Determination (Header Bags) |
| | Texwipe Sterile Products, Sterilized, Validated, Documented and Endotoxin Tested |
Swabs
| TechNote Title | Description |
| --- | --- |
| | Swabbing is the preferred method to validate critical cleaning within pharmaceutical manufacturing environments. As a result, the selection of a quality swab and a validated swabbing method is critical to producing sensitive, accurate, and repeatable results. |
Cleanroom Paper
| TechNote Title | Description |
| --- | --- |
| | A discussion on autoclave conditions for Texwipe's synthetic and cellulose-based paper |
| | TexWrite® MP Products: Next Generation Cleanroom Stationery |
OTHER