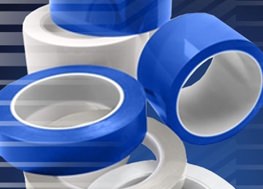 Cleanroom Adhesive Tapes
Texwipe offers a range of Cleanroom Adhesive Tapes, constructed from the highest quality materials available including Polyethylene (LDPE) and Vinyl (PVC) with Acrylic or Synthetic Rubber.
Applications
The full line of tape constructions suitable for most applications and environments. We selected specifically engineered tape choices to suit a broad range of preferences, protocols, and needs.
Texwipe Cleanroom Tapes selection:
TPA Series: Polyethylene (LDPE)/Latex-free Acrylic – strong adhesion; hand-tearable.
TPR Series: Polyethylene (LDPE)/Latex-free Synthetic Rubber – hand-tearable.
TVR Series: Vinyl (PVC)/Latex-free Synthetic Rubber – extremely conformable tape, aggressive adhesion, clean peal from most cleanroom surfaces.
All Texwipe Cleanroom Tapes are:
Uniquely packaged in press-and-seal cleanroom bags providing additional convenience to end-users
Individually lot coded for ease of traceability and quality control
Double bagged for easier introductions into Cleanroom environments
Applications:

Cleanroom packaging
Color coding - Labeling
Surface protection
Waferbox sealing
Aisle marking
Ductwork sealing

Other Features:

Strong adhesion
Hand-tearable
Easy to write on
Clean peel from most cleanroom surfaces


Cleanroom Tapes
Technical Data Sheet
Narrow Your Results
Currently shopping by:
Width: 1/2"