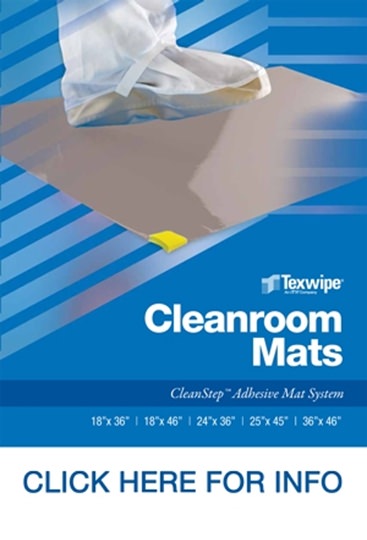 Contamination Control Mats
We've enhanced the Texwipe adhesive contamination control mat line with exceptional choices and superior performance.
Whether cleaning protocols require portability or the surface just isn't conducive to adhesives, CleanStep's mix of sizes and colors are sure to fit the bill. Offering 36 mat/frame combinations, the easy selection will improve your environment and save you time.*
Choose a mat and pair it with a frame if you choose.
Mat Sizes: 18" x 36", 18" x 46", 24" x 36", 25" x 45", 36" x 46"
Colors: Blue, gray, white
Layers: 30 or 60
Non-Skid Frames: Black or white
The CleanStep's optional portable frame, is the time-saving, floor-saving, and clean alternative to adhering mats to the floor.
Check out our brochure by clicking here.